Taghreed Khalayla, 25 years old from Jordan, lived one year in Magdeburg and Hamburg as an exchange student, where she experienced Christmas time in Germany. I spoke with her about how her family celebrates Christmas in Jordan, Christmas markets and her Christmas experience in Germany.
How do you and your family celebrate Christmas Eve in Jordan?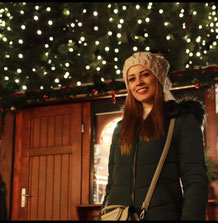 In Jordan we celebtrate Christmas Eve on the 24th of December with all our friends and family. First, we wake up early to dress ourselves. Women wear dresses, men wear suits. Then our siblings and cousins will come to our house and we eat sweets and chocolate together. We always have lots of people coming to our family.
After that in the afternoon we will have a dinner with my siblings and parents, where we wish ourselves "Merry Christmas". After our big family dinner, the children and everyone get their presents. It is like a small party with a nice song and dancing after that we distribute the gifts.
What is a typical Christmas dinner? What do you and your family eat?
Traditionally we always have meat and a big turkey, and we eat it with rice and salad. It is a family tradition, so all our family members attend our dinner. 
Are there Christmas markets in Jordan?
Unfortunately, we don't have Christmas markets. I really miss those days when I was in Germany. The atmosphere was very nice with all these beautifully decorated wood huts. There was more laughter everywhere.
But is there any Christmas decoration in Jordan during Christmas time?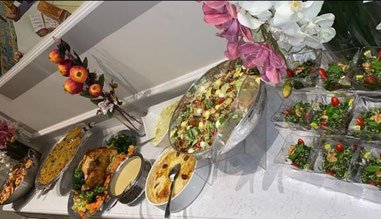 Yes! In Amman, our capital city, the joy of Christmas is contagious and the excitement goes beyond the Christian community, reaching out the whole city while the children eagerly await Santa Claus. Christian or non-Christian, all Jordanians celebrate Christmas with joy and excitement. Small shops and big malls are often all covered with delightful and uplifting Christmas decorations, with much of red and green colours added as the theme colour for this occasion. The glimpses the lights sparkling from behind the windows will leave you with a joyful spirit. 
What did you like about Christmas time in Germany?
I think German people pay more attention for this special day: Especially they prepared a long time for Christmas markets, and I liked the activities Germans do together loke playing, eating and drinking. 
Gallery: Christmas trees in Jordan
(c) all photos: Taghreed Khalayla